Well deadline day is here and so far NO PROOF of wiretapping. Now comes the Trump Administration spin.
Spicer: Trump didn't mean wiretapping when he tweeted about wiretapping
The White House on Monday walked back a key point of
President Donald Trump's unsubstantiated allegation
that President Barack Obama wiretapped his phones in Trump Tower during the 2016 election.
Namely, White House press secretary
Sean Spicer said Trump wasn't referring to wiretapping when he tweeted about wiretapping.
"I think there's no question that the Obama administration, that there were actions about surveillance and other activities that occurred in the 2016 election," Spicer said. "The President used the word wiretaps in quotes to mean, broadly, surveillance and other activities."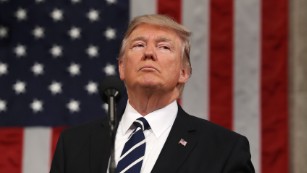 6 days later, no more clarity from Trump on wiretapping claims
Wiretapping is a narrowly defined surveillance activity that involves tapping into "a telephone or telegram wire in order to get information," according to Merriam-Webster dictionary.
Spicer also said that Trump was referring to the Obama administration broadly -- and not accusing Obama of personal involvement -- when he tweeted that "Obama had my 'wires tapped' in Trump Tower" and accused Obama of being a "bad" or "sick guy."
https://www.google.com/url?sa=t&rct=...zgYZ320u3_dn5A
https://www.google.com/url?sa=t&rct=...e9Vu-hS80JBzog
What a gd clown show